Dorms and rooms
All rooms have a shower and WC in the room. Some rooms even have a balcony. The rooms are either furnished with bunk beds or double beds (queen-sized).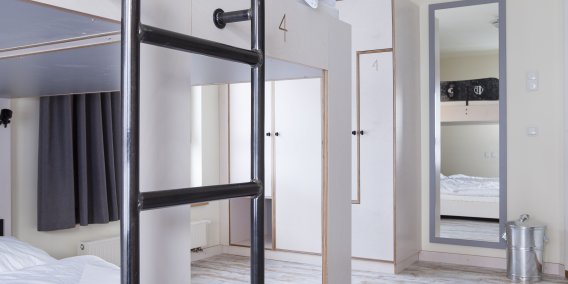 enough space
Each bed also has a locker that can be locked. Please bring your own padlock or you can purchase a cool hostel lock. These are available at the reception.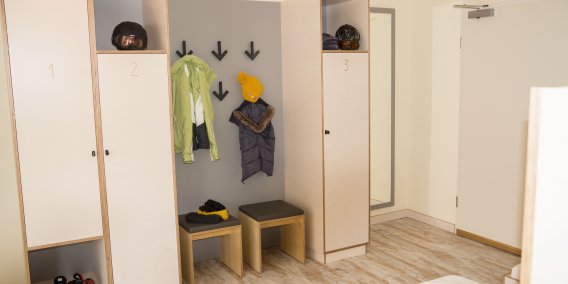 Included
The bed linens are provided to you upon check-in. Please make your own bed. Don´t forget to bring your own set of towels. If you wish, you can also rent them from us at the reception, only paying a fee of €4.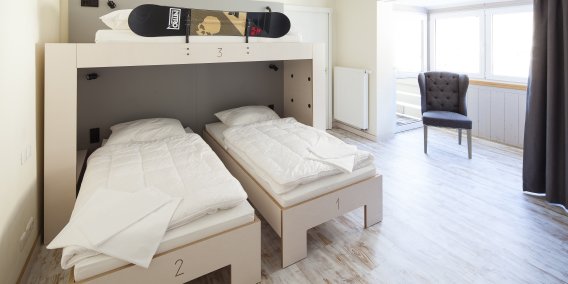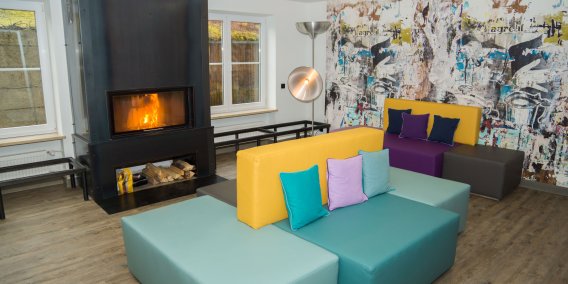 From €25 a night
It doesn't matter which variant you choose. At the Oberstdorf Hostel you will sleep in a trendy and affordable room. The really good price implies various included services. The spa tax is paid separately upon arrival.
Your bed in the Alps...
...is everything you need! Whether you are travelling alone, with your friends or with the family. The Oberstdorf Hostel is a trendy, open and communicative place. The perfect location for everyone who doesn't want to spend their holidays alone.
The Oberstdorf Hostel has over 76 rooms containing 251 beds. Almost all of the rooms are equipped with a shower/WC; some rooms have a balcony. Every bed has an accompanying closet that can be locked as well as a small shelf space in the bath.
Double room
Triple room
Quadruple room
Six-bed room
Five-person camp with common bath and WC
Single room with common bath and WC