Be part...
... of our shared holiday accommodation and, together with other travellers, experience an incredible and unforgettable time at the Oberstdorf Hostel.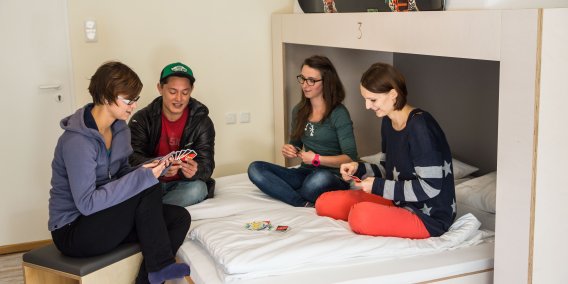 Things to do...
... like cooking, eating, planning trips or enjoying an evening at the hostel together to make your stay even more rewarding.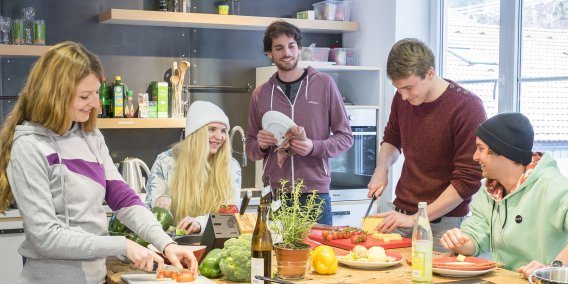 Your location in the Alps
You want to sleep in a stylish place, want to be on the slopes or hiking trails within minutes and meet new friends - THIS is your location!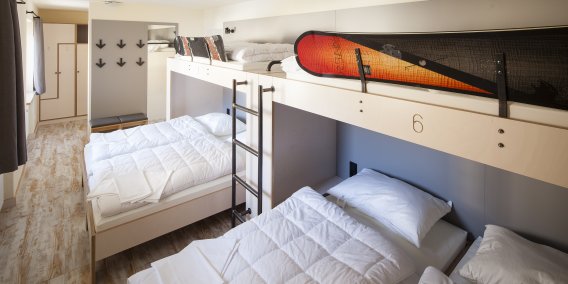 More information about the Oberstdorf Hostel!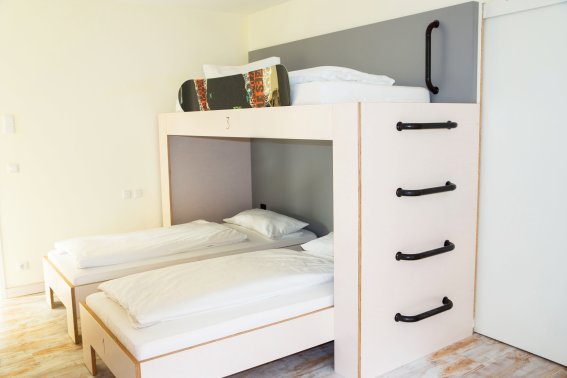 Room or Bed
In the Oberstdorf Hostel, you will find modern, trendy and inexpensive beds in the Allgäu Alps.
Whether you are travelling with friends, family or on your own – book a whole room or just a bed in a room that you share with other travellers. Safe your bed in a dorm room from €25,- a night. For more information click here...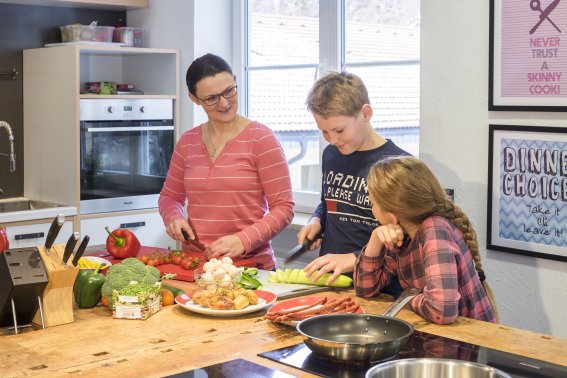 Families are welcome
The Hostel offers affordable family holiday at a fixed rate. It includes the overnight stay with breakfast and dinner served with non-alcoholic beverages, plus a lunch package with beverage. In summer holiday there is a free daily family holiday programme with adventure day, Federal Hostel Games, Oberstdorf Rally, and lots more. It´s family time at the Hostel. :)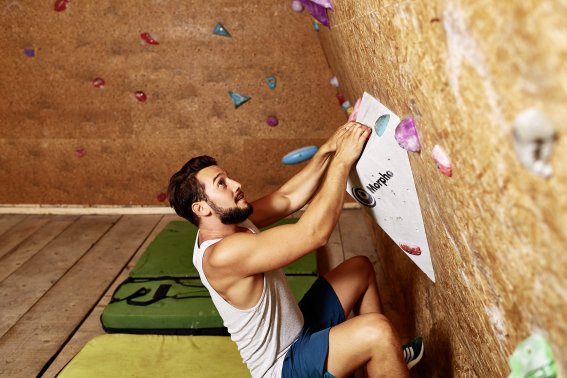 The Playground
We offer you numerous opportunities that will help make your stay with us both pleasant and exciting. What you do is up to you. Indoors, we offer you lots of cool common areas, and outdoors you can frolic in our multifunctional sports area located directly adjacent to the Oberstdorf Hostel.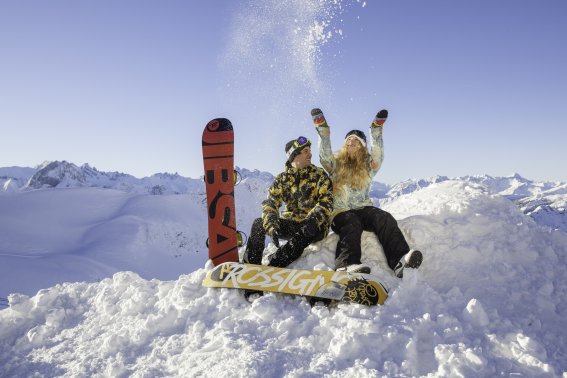 Wintertime
Winter is here and now. The sun is shining, the mountain peaks beckon you, and you are staying at the Oberstdorf Hostel? Well then, the winter action throughout the Allgäu Alps can begin. Here you'll find all informations about the ski areas at Oberstdorf.
Common areas at the Oberstdorf Hostel
Important information about your stay in the hostel:
• Arrival: the hostel is located in Mühlbachstr. 12 in 87561 Oberstdorf (Germany). You can arrive by train or long-distance bus to Oberstdorf and then take a taxi or local bus directly to the hostel.
• Payment: You will pay for your stay upon check-in using your EC (debit) card, your credit card or in cash. All snacks and beverages must be paid in cash.
• Check-in/out: Check-in time is after 3 p.m.; Check-out time is by 10:30 a.m.
• Towels: Please bring your own set of towels. If you like, you can rent them from us for a fee of €4 – one large towel and one small towel.
• Dog: Of course, you can bring your dog to our hostel ;) However, your pet must be kept in your room and we will charge you a daily rate of €10. If you come with your dog, you will only be able to stay in a room (not in a multi-bed room)
• Deposit: For your room key and the Oberstdorf guest card, we ask for a €10 deposit (in cash) at the time of your arrival.
• Lock for the closet: Every bed includes a lockable closet. In order to lock the closet, either bring a lock or purchase a cool hostel lock at the reception.
• Wi-Fi: Can be used free of charge throughout the duration of your stay at the Hostel.
The Oberstdorf Hostel offers plenty of opportunities for an awesome time. Plan your holiday trip to the Allgäu Alps and check out your favorite spot in the Oberstdorf Hostel. We´re looking forward seeing you soon!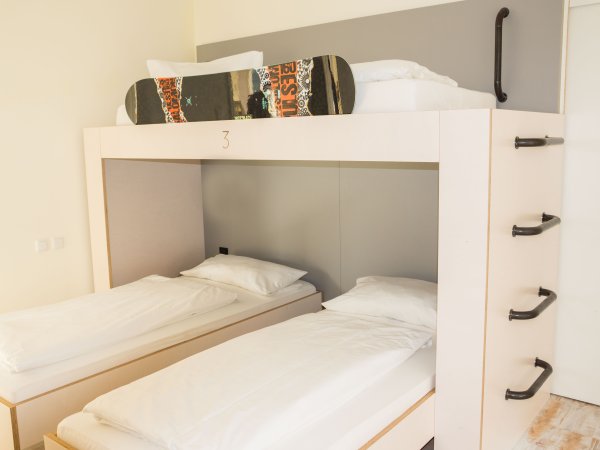 Special offer for You
Safe money and book a bed in a dorm room. Your overnight stay in the alps always includes ...
Delicious hostel breakfast buffet

Free Wi-Fi throughout the hostel

Bed linens

A lockable closet in your room

Tips from the lovely Hostel Crew
Always included for you!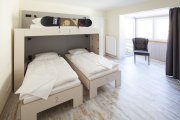 Bed linens and Wi-Fi
As is the case in most hostels, here you'll also have to make your own bed. We will provide you with bed linens. Free Wi-Fi in the hostel.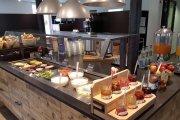 Delicious breakfast
Help yourself at our savoury and abundant Hostel breakfast. Fresh rolls, coffee, egg station, muesli, fruit and lots more.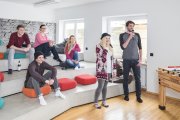 Exciting common areas
It doesn't matter whether trendy kitchen, dining room, table soccer room, fireplace room or cinema - lots of room to meet up with others.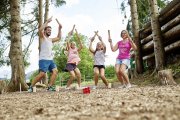 Free family holiday programme
Barkeeper's mixing course, city rally through Oberstdorf, or bouldering. We offer your children a varied holiday programme, every day!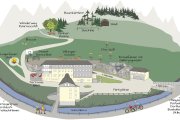 Outdoor playground
Slacklining, jumping on the trampoline, bouldering or taking a dip in a small mountain pool? No problem – you'll find all of that here.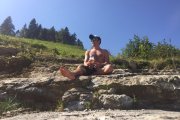 Tips from the Hostel Crew
The hostel crew will be more than happy to help you organise your activities in and around Oberstdorf! Simply ask us.